Mental Exercise For Seniors - Miami
For more information about our senior day care center, call us at 305-846-9096 *Call us today and ask about our free for loved one*
At Coconut Grove Adult Day Care Center, we understand the importance of social interaction and building a sense of community. Our mental exercise activities provide opportunities for seniors to connect with others, share knowledge, and engage in thought-provoking discussions. Call today!
Unlocking the Power of Mind and Memory in Miami
At Coconut Grove Adult Day Care Center, we recognize the importance of mental exercise in maintaining cognitive vitality and overall well-being for seniors.
Our Mental Exercise For Seniors services were designed to stimulate the mind, enhance cognitive abilities, and promote a sense of intellectual engagement and fulfillment.
Keeping the mind active and engaged is essential for maintaining cognitive health and mental sharpness. Mental exercise has been shown to improve memory, enhance problem-solving skills, boost creativity, and reduce the risk of cognitive decline.
At Coconut Grove Adult Day Care Center, we prioritize the mental well-being of our esteemed seniors, understanding that intellectual stimulation is key to living a fulfilling and enriching life.
Healthy minds for all our seniors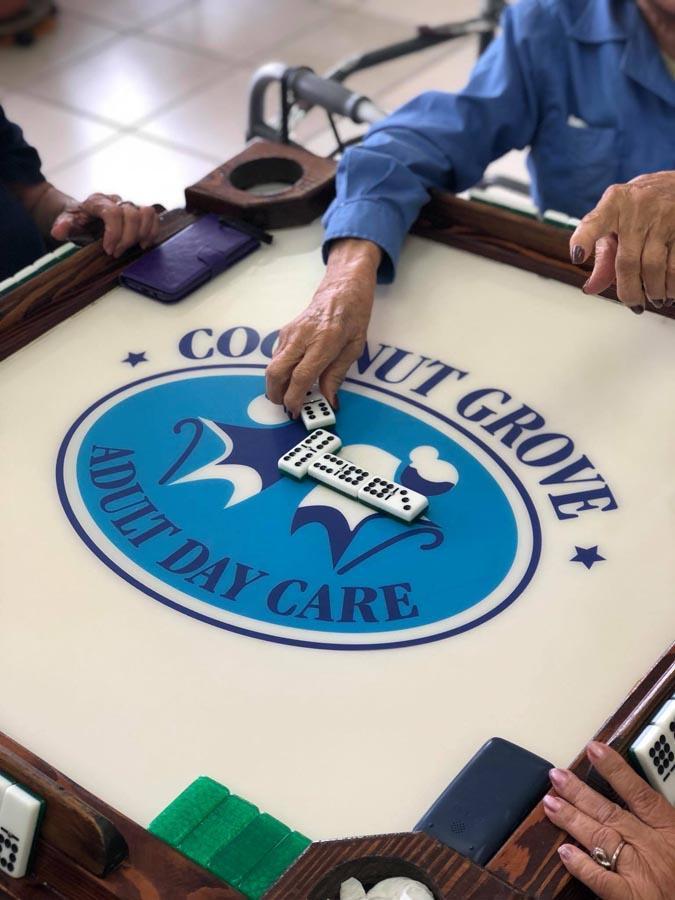 Our Services
Nutrition For Seniors
Arts For Seniors
Transportation For Seniors
Physical Exercise For Seniors
Mental Exercise For Seniors
Our Guarantees
Dedicated & Loving Staff
A Welcoming Haven
Years of Experience
Transportation Options
We Serve
Brickell
Coral Gables
Little Havana
Coral West
South Miami
West Miami
Allapattah
City of Miami
Downtown Miami
A Variety of Engaging Activities
At Coconut Grove Adult Day Care Center, we offer a diverse range of mental exercise activities that cater to various interests and abilities.
Our dedicated team of caregivers and instructors are passionate about promoting cognitive engagement and providing opportunities for our guests to explore new ideas, expand their knowledge, and challenge their minds in a supportive and nurturing environment.
From trivia games and puzzles to brain-teasers, discussions, and memory-enhancing exercises, we provide a stimulating and dynamic environment where seniors can keep their minds active and thriving.
Our goal is to offer a variety of options that cater to different interests and preferences.
If you or your loved one is seeking a warm and welcoming environment where mental exercise is celebrated, let us be your partner in unlocking the power of the mind and memory.
Restoring the power of the mind and memory.